Our dedicated staff members are here to provide support, compassion, and information to help you through your journey of grief and the celebration of your loved one's life.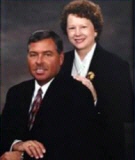 Terry & Julie Clemens
Funeral Director/Owners
Terry Clemens graduated from Mid-America College of Funeral Service at Jeffersonville, Indiana in 1985. He has been associated with funeral home service since 1983 when he began working for his father-in-law, George Deaton.

Terry and Julia became owners of the funeral home in January of 1991 after the passing of Mr. Deaton. Terry has remained the sole funeral director assisting families with their funeral services. The funeral home has been in the family since 1965 when it was purchased from Mr. Everett Beige by the Deaton family.

Terry married Julia Deaton in 1980 and they have three daughters together. They are actively involved in their church, The Bourbon First United Methodist Church. Terry is also a member of the Triton Kiwanis Club.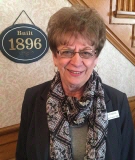 Joan Eckstein
Visitation Hostess
Joan Eckstein has been a valued member of our support staff since 2011.

Joan professionally assists our families during the visitation process, making sure all their needs are met.

Joan was born and raised in the Marshall County area. She owned and operated the Mundy's restaurant for nearly 40 years. There are not many "folks" that Joan doesn't know!

Joan has been blessed with a nephew, Richard, his wife, Kari Vancza and their family; a niece, Deborah, her husband, Tim Denlinger and their family; Joan has been further blessed with four children she claims as her own and loves with all her heart, Duane, Debbie, Elizabeth and Jessica; and three grandchildren, Trenton, Gabrielle and Victoria.